The Five Cheapest McLaren Models Money Can Buy
When McLaren first stepped into the spotlight, it's production line was scant. Few cars were produced. However, as time drove on, McLaren's team of crack designers and engineers ended up crafting some of the most sought after super cars in the world.
This acclaimed British automaker has succeeded in standing shoulder to shoulder with Porsche, Lamborghini and Ferrari as a top competitor in the world of super cars. Part of McLaren's popularity is its ability to engineer super cars that are both practical and efficient.
Its Sports Series, for example, boasts a stable of cars which can be considered affordable, while retaining the ability to hit the track.
What we're going to take a look at today are the five cheapest McLaren models.
2021 McLaren 540C: Base Price of $184,900
The 540C is the entry level McLaren Coupe. At a base price of $184,900 this McLaren clocks in at the "cheapest" new 2021 McLaren on the market with a top speed of 199 mph. Make no mistake, even though it's the lesser priced McLaren, don't let that fool you.
This car is perfect for daily drives as well as taking a fast, heart stopping spin down some winding, country roads. The engine is a 3.8 liter M838TE twin turbo V8. When it comes to power, you get 533 bhp at 7500 rpm, with torque coming in at 398 pound feet at 3500 to 6500 rpm.
This affordable super car can go from 0 to 60 in 3.4 seconds and 0 to 124 in 10.5 seconds. A member of the McLaren Sports Series, this McLaren is designed for everyday drives--a McLaren for day-to-day commuters if you will.
The 540C comes with a dual clutch, automatic gearbox. This means that all it takes is to place it in Drive Mode, and you're off. The 540C also comes with a spacious interior and 5 cubic feet of trunk space.
2021 McLaren 570S: Base Price $191,100
Described by McLaren as "driver centric" you'll find the 570S a comfortable and fast drive for both city and country. This high performance super car starts at $191,100 base price. Like the 540C, the 570 S comes with McLaren's 3.8 liter, M838TE twin turbo V8, capable of hitting 0 to 60 in 3.1 seconds and 0 to 125 in 9.5 seconds.
The 570S reaches a top speed of 204 mph. Its high power to weight ratio and light weight means you'll be quite tempted to pump the pedal, leading you to feel the rush of a true super car.
This McLaren Coupe comes with a double wishbone suspension and an Active Dynamics Panel which gives you the option of Track, Sport or Normal driving modes.
2021 McLaren 570GT: Base Price $203,950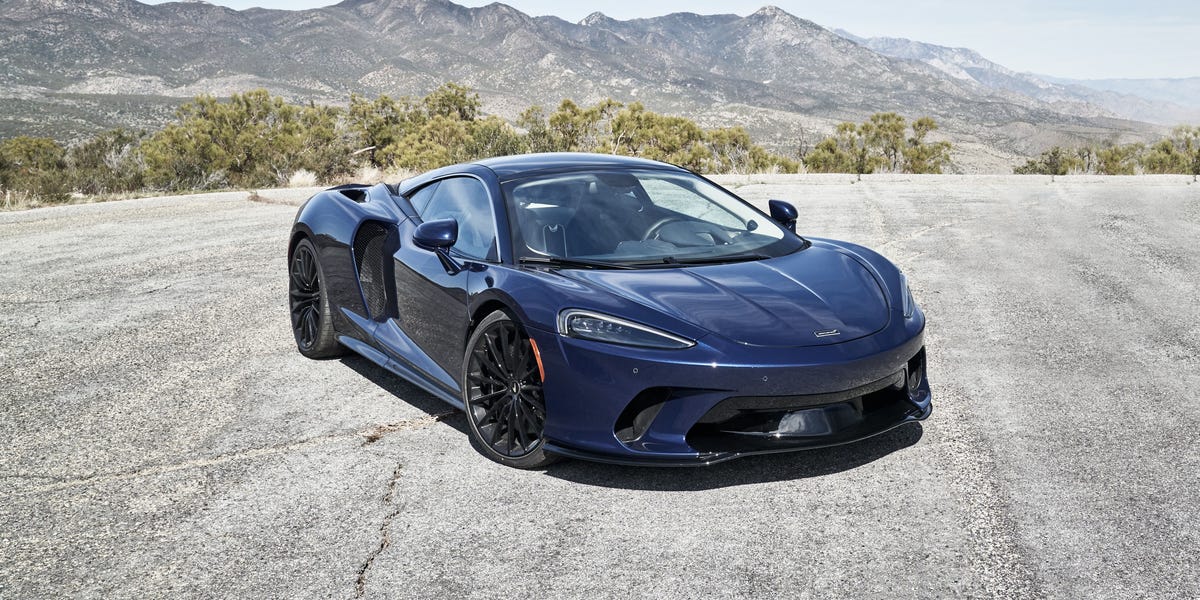 Back in the day, the McLaren 570GT was considered their entry level car. Like the previous offerings, the 570GT comes with McLaren's spark ignition, 4 stroke 3.8 liter M838TE twin turbo V8 engine, which pumps out 562 hp at 7500 rpm with 443 lb-ft of torque at 5000 to 6000 rpm.
All of this gives you a super car which can hit 60 mph in 3.4 seconds and 124 mph at 9.8 seconds, giving you a top speed of 204 mph. Classed as a grand tourer (GT), this car serves as the perfect commuter vehicle, the race track and long weekend drives in the country.
This 2-door sports fast back coupe is propelled via rear wheel drive traction. The GT is known as one of McLaren's more practical super cars. It boasts a luxurious, comfortable interior, elegant handling even under great speeds. It's glass tailgate also gives an extra 220 liters of storage space.
2021 McLaren 570S Spider: Base Price: $211,300
Next on our list of the cheapest McLaren is the 570S Spider. This rear wheel drive, two seater is available for $211,300 base price. Standard features include McLaren's 3.8 liter, twin turbo V-8 engine, ABS and driveline traction, and 19 inch silver aluminum wheels.
Other customer friendly features include front air conditioning, keyfob entry for all doors, heated mirrors and parking assist. Open air driving is provided by a retractable hardtop which takes only 15 seconds to slide down.
This convertible comes with a tough, durable carbon fiber construction.
This carbon fiber foundation ensures that you maintain excellent handling during drives. Dihedral doors, found on all McLaren's provides both driver and passenger and easy entrance and exit due to their 90 degree rotation upwards.
2021 McLaren 600LT: Base Price $242,500
Car and Driver gives the 2021 McLaren 600LT a 9/10 rating, and Parkers gives it a 4.5/5.00 rating. If you're in the market for a sporty McLaren which fits your budget, then this could be the one.
Handling of this car in both city and country roads is both exciting and secure. the McLaren 600LT is specifically designed to engage the driver, to immerse them into the driving experience.
Of all the cars in McLaren's Sport range, the 600LT is the fastest. While those looking for a usable, practical everyday McLaren would select the 540C, those searching for one designed for speed and the track would find the 600LT more suitable.
Whereas GT refers to the grand touring classification, LT refers to "Longtail". This means the 600 LT comes with an aerodynamic carbon fiber chassis. Helped along with Pirelli Trofeo R tires, means your drive will have more grip on the pavement.
Final Thoughts
The McLaren models listed above all belong to their Sports Series, and represent the cheapest McLaren's on the market. Not only do these cars reflect McLaren's long history in racing, but they add one more aspect to their roster:
Usability. According to McLaren Automotive, all cars listed within their Sports Series are "built to drive" Practical, stunning and fast, this collection of 5 cars represent the pinnacle of automotive design and innovation.
In other words, these McLaren super cars can handle the Las Vegas Strip one day, and be perfectly at home taking you through the Nevada Red Rock Canyon Drive the next. Efficient, ease to handle, stylish and affordable, you can't ask more from a super car than that.
You can also read:
Can You Rent a McLaren? If So, Where?
Written by
Benjamin Smith
Benjamin Smith is one of the managing editors of Moneyinc. Ben's been focusing on the auto and motorcycle sector since 2005. He's written over 1000 articles in the space and continues to learn about it each day. His favorite car is "any Bugatti" and he's a die hard Harley Davidson fan.
Read more posts by

Benjamin Smith