10 Things You Didn't Know about Romain Moulin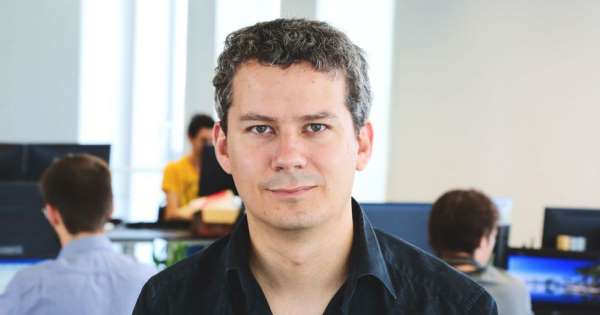 Romain Moulin cofounded Exotec Solutions – a global robotics company – in 2015 alongside Renaud Heitz. He is a respected leader that has seen the company grow over the years to employ more than 300 people and open offices in North America. As the CEO, he has been instrumental in raising capital for Exotec, all in a bid to solve the retail warehouse automation problem. Let's review 10 things you probably didn't know about his impressive life and career.
1. He Founded a Company in 2015
Romain Moulin and Renaud Heitz got the idea to open Exotec in 2014 while they were still working for General Electric Medical. They founded the company in 2015, and Moulin has been the CEO ever since, heading the Lille office in France. As mentioned, Exotec is a robotics company. It builds scalable robotics solutions to enhance economics and efficiency in warehouse automation. Exotec robotics are used by some of the largest brands in the world in a vast range of industries, including manufacturing, retail, 3PL, grocery, and e-commerce. The Skypod system – the company's signature solution – uses robots to retrieve and store warehouse inventory up to 36 feet high.
2. He Began His Care in Healthcare
Moulin was born in France, where he was also raised and attended engineering school at Supaero University, earning a master's degree. He worked in BA Systemes handling logistics for several years before being promoted to CTO. Before he founded Exotec, Moulin was working at General Electric Healthcare. His roles included innovating and implementing medical robot features.
3. He Got Inspiration for His Company from Amazon
While still working at GE Medical, Moulin and Heitz heard the news that Amazon has acquired Kiva Systems – a startup that has produced a robotic solution for automated warehouses. Amazon had just told the world that it planned to keep the technology to themselves, creating a gap that Moulin and Heitz believed they could fill. They were on a bus headed to work in 2014, and, at that moment, the Skypod System was born. One year later, Exotec was launched. In a quote published by Sifted, Moulin said, "At that moment, they showed everybody that technology was a driver for logistics, and logistics was a driver for success. So that was really the starting point."
4. He Has Been a CEO for 6 Years
Moulin has been the CEO of Exotec since he launched it alongside co-founder Heitz. In the 6 years 5 months he has held this position, Moulin has helped build and install robotic logistic systems for warehouse order preparation. Some of his greatest accomplishments to date include:
· Being listed as the main inventor in 4 patents.
· Managing a robotics development team working on a new-gen mammographic imager
· Earning a Black Belt degree in Six Sigma
· Creating the architectural plans for a laser-guided omnidirectional imager
· Helping his company raise $477 million in capital
5. His Company Is a French Industrial Unicorn
Although France has hoped to establish itself as a go-to hardware industry, this dream collapsed with the closure of several companies that failed to break into the company. Moulin's brainchild, Exotec, is considered the country's first industrial unicorn, especially after it raised over $335 million in capital in 2022 at a $2 billion valuation. It is the fourth company to achieve this feat in France this year, following closely after Qonto, Ankorstore, and PayFit. Unlike these unicorns, however, Exotec stands out because it produces physical products. Of this, Moulin said, "We are super proud of having done a unicorn with hardware with engineers and technicians all over the world."
6. He Launched a Robotic Arm
Moulin is dedicated to meeting the automation needs of companies from a wide range of sectors all over the world. His company continues to improve the number of tasks, speed, and accuracy of robots in warehouse automation and is the name behind Skypicker technology. Essentially, Skypicker is a robotic arm that performs order sorting in warehouses. It can carry more than five times the items a human employee can carry, improving warehouse efficiency. Additionally, many companies are turning to Skypicker technology amidst the pandemic in a bid to reduce labor costs.
7. His Company Is Expanding
Exotec has been growing steadily for the past few years, expanding into North America. It recently signed several large clients like Geodis, Gap, and Decathlon – the world's largest sporting retailer. Decathlon has incorporated Exotec's Skypod System into its fulfillment center in Montreal and other European outlets. Additionally, the company's revenue rose to €105 million in 2021 from €20 million in 2019. Moulin's plans to open offices in Tokyo, Munich, and Atlanta will see the revenues double in 2022 and the number of employees rises by 350 by 2025.
8. He Is a Large Employer
At the moment, Moulin's team includes over 300 professional employees around the world. The company plans to double this number by 2023 and hire 500 experts by 2025 to work in the recently established Asia and North America offices.
9. He Has Raised a Lot of Capital for Exotec
Exotec might not face a lot of competition in France, but it has to fight for its place in the global market. Despite such pressure, Moulin's leadership has helped the company attract investors and raise a lot of capital – over $477 million. Some of the company's notable investors include Breega, Iris Capital, Bpifrance, and 360 Capital Partners.
10. He Has Held Several Positions in Different Companies
According to his LinkedIn profile, Moulin was the Technical Manager at BA Systèmes for more than two years from 2008 to 2010. While working there, he managed a 19-person engineering team and oversaw several projects, including the creation of the Artemis AGV. He was also a Designer in Astrium from 2006 to 2008 and a Project Design Engineer at BA Systèmes from 2004 to 2006. His engineering and robotics experience prepared him for Exotec.
Conclusion
As the CEO of Exotec, Romain Moulin has accomplished more for France's robotics industry than any other company leader. He applies his robotics, architectural, and engineering skills to find innovative and effective solutions for warehouse automation. With the plans he has for his company, it is safe to say that we are yet to see the best Exotec can do.
Written by
Allen Lee
Allen Lee is a Toronto-based freelance writer who studied business in school but has since turned to other pursuits. He spends more time than is perhaps wise with his eyes fixed on a screen either reading history books, keeping up with international news, or playing the latest releases on the Steam platform, which serve as the subject matter for much of his writing output. Currently, Lee is practicing the smidgen of Chinese that he picked up while visiting the Chinese mainland in hopes of someday being able to read certain historical texts in their original language.
Read more posts by

Allen Lee